Good Morning America's First Wedding!
The First Ever, Two-Minute Flash Wedding on Valentine's Day, 2013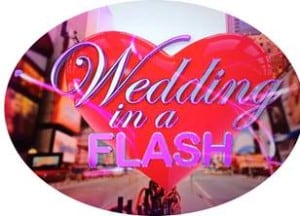 It was about 4PM on Thursday, February 7th, 2013 when my cell phone rang. I had just stepped out of my car on my way into the Gramercy Park Hotel to perform a 5PM wedding ceremony for a couple from Norway.
"Hi, Captain Arnold," a voice on the other end said, "my name is Taylor Behrendt, and I'm a producer for Good Morning America. We wanted to know if you were available to perform a wedding ceremony on our show next week on Valentine's Day. I know that it's short notice, but you were highly recommended to us by New York Magazine, and this is going to be a surprise wedding for a couple that won a contest held on our show. The bride doesn't know that the groom will be proposing to her in front of millions of viewers, so it should be very interesting and entertaining, to say the least."
I looked at my watch and noticed that I still had some time before my next ceremony, so I got back into my car and switched the call to my car phone. This was a call that I wanted to concentrate on. I quickly looked at my schedule and replied, "Sure, I'm available, so long as it's during the morning or daytime. I have to perform a mass vow renewal on the Red Steps in Time Square that evening for hundreds of couples from around the world, and it will be televised as well."
I also explained to Taylor that I was just on my way to perform a ceremony and didn't have too much time to talk, but would like to get a few more details. Perhaps we could continue the discussion later or the following day.
"Sure, I understand," she replied, adding, "I can email you some details along with a standard release form that's required by our legal department."
"That's fine," I said, "but for now, I just have a few questions so that I can prepare for this wedding. Can you tell me how long the ceremony has to be? Does it have to be approved, and do I have the opportunity to talk to the couple prior to the ceremony?"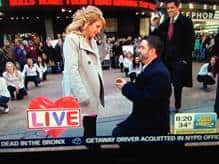 Taylor told me that the time of the ceremony had to be limited to five minutes and that their legal department would have to review and approve the ceremony. As far as talking to the couple, that wasn't possible as this was a surprise wedding for the bride.
"The groom will propose to her in the street in front of our studio and about 30 minutes later, the wedding will take place inside the studio, which has been set up beautifully for a nationally televised wedding. We're all very excited about this event as this has been planned for some time and everything has been timed perfectly. We have a beautiful wedding cake that has already been designed, and a wonderful selection of wedding gowns for the bride to choose from."
"Whew," I thought to myself, "that's a lot to absorb!" In the few minutes we were talking, I had a lot to think about regarding the preparation required for this with only little more than a week away.

I thanked Taylor for the update and we said our goodbyes. I looked at my watch again and realized that the time just flew by. It was getting close to the scheduled ceremony time for my couple from Norway. I rushed into the Gramercy Park Hotel. I told the desk clerk I was there to perform a wedding and was handed a private elevator key card.
The elevator gave me entrance to a beautiful penthouse suite where I met my lovely couple and their daughter. I still had eight minutes to spare. We spoke for a while, went over the details of the ceremony and had some of the hotel staff sign the wedding license as witnesses to the wedding.
Moments before the ceremony, the couple and I stood before a large floor-to-ceiling window overlooking the lights of the city. They told me that this was a very big deal for them, having come all the way from Norway with their daughter to be married in the Big Apple, the greatest city in the world!
The ceremony was beautiful and they loved every moment of it. Little did they know that, just before I entered the hotel, I had received a call from Good Morning America. Soon I would perform my ceremony on a national TV show that would be seen by millions of people across the country. To be honest, it kind of blew my mind. After all, it doesn't get much better or bigger than that, does it?
I left the hotel, got back into my car and kept thinking about the call from Taylor. I didn't have to think long as the phone rang and I could see on the caller ID that it was Taylor calling me again. I found a spot to pull over at the side of the road so I could again give full focus to the call.
"Captain," she said, "we need you to do a two minute ceremony. Can you do that?"
I smiled to myself for a moment, thought about it, and then asked her, "How many viewers do you have?"
"About six million, give or take a few," she said.
"Heck, I'll do a 30 second ceremony if you want me to."
Taylor laughed and told me that two minutes of talking is like a lifetime on national TV.
The truth is, she didn't have to tell me that. I already knew it.
I told her that my ceremony usually takes about 18 minutes and 22 seconds. Not too short, and not too long, according to my years of experience and what's expected from most wedding venues and catering facilities. I knew that cutting my ceremony down to five minutes would be tough enough, but to further chop it down to only two minutes would be almost impossible if I wanted to keep some of my heartfelt words in.
I told her, however, that nothing was impossible! I'd work on it and email her what I thought would please the producers, the director, and their legal department as well.
"Thank you Captain," she said graciously, "I know you will. That's why they said you're the best!"
After that I was left with a lot more to think about on the drive home, not to mention the information that was still missing from this equation.
When I arrived home, I told my wife and children and everyone was excited for me. When I gave them the details of what was expected, however, they wondered how it would be possible.
"How can you perform a wedding ceremony in only two minutes? That's just about enough time for you to declare them husband and wife and have them kiss!"
"It's going to be a challenge," I said, "but I think I can do it."
The next morning I woke early after thinking about this project for most of the night. When I perform my ceremony, I don't read it, I just say it. It just comes out of me and I ad-lib when I feel I have to. I hold a little black book because it looks good for pictures. Now and then, I'll glance down at the book because it has a little clock stuck to the inside cover that tells me how I'm doing with time. But now, I had to dissect my ceremony word for word and put together what I would call a "hiccup" of my ceremony to meet the requirements of Good Morning America.
I did just that! I put together the distilled essence, the "meat and feeling" of what I believed to be a perfect wedding ceremony for what GMA needed, and read it using a timer. It was four minutes, twice the time that I needed. I went back to the drawing board with some more cutting and splicing and using the timer. It was three minutes now, but still too long.
Should I speak faster or cut more, and from where? Again and again I cut a little here and a word there. I read it again with feeling and the time showed two minutes and five seconds. That was it; this would work! I'd lose the five seconds when I did the ring ceremony. I read it over and over and it stayed at two minutes and five seconds. I was happy. It was done and I knew it had the words that would make everyone happy.
I called Taylor. I told her I had the ceremony written for her and that she should send it to her legal department for approval. They accepted it. Now all we had to do was wait until Valentine's Day.
In the meantime, I had some more questions for Taylor. What time did I have to be at the studio? Where could I park my car? Who did I need to see when I arrived at the studio? Could I bring my office assistant with me? What time would I be finished?
I realized that a lot of planning went into this wedding and while I only had two minutes to play a part in it, my ceremony was still the "glue" that would make it happen when I said "you may kiss your bride for as long as you want".
Before even asking Taylor, she gave me the answers. "We'll send a limousine to pick you up as well as take you home or any other place you may need to get to. The limo will pick you up at about 5:30 AM and get you to our studio about 6:15 AM. I'll meet you when you arrive and bring you to the 'Green Room' where you and your assistant can relax and have some refreshments.
"Someone from our team will bring you to the makeup room prior to going on the air and our director will be there to tell you whatever it is you need to know. Our sound team will wire you and run some sound checks and you'll be ready to go. Believe me, everyone knows who you are and they will have you in position when we're ready to begin the ceremony."
Valentine's Day finally arrived. Kristin, my assistant, came a little early. I could see that she was just as excited and anxious as I was to be at this historical event that would be taking place in just a few hours. Kristin had worked as my Director of Marketing and Social Media, and she was my "right hand" when it came to marketing and public relations.
The limousine arrived right on schedule. The drive to the GMA studio was quick since there was very little traffic on the road that hour of the morning. When we arrived, Taylor's aide greeted us just as we got out of the limousine and escorted us to the main studio.
I met Taylor and we went over the routine again just to be sure I was familiar with what to expect. She brought us into the "Green Room" where we would wait until called by certain members of her staff. It was a comfortable room with some snacks to nibble on.
There was a large TV tuned to the GMA station (naturally) so that we could watch the show when it went on the air. From what we could see, there was a large group of teenaged dancers that would be dancing in front of the studio when the groom proposed to his girlfriend.
Of course, the bride-to-be had no idea what to expect or, for that matter, what was going on behind the scenes in preparation for this first-ever wedding event on GMA.
The minutes clicked away and soon the show went live. The ceremony was scheduled to start at 8:30 AM, so we had lots of time before I was needed. I was brought into the makeup room by a staff member for some touchups to keep the reflection from the bright lights to a minimum while the cameras rolled.
The next step was to meet the sound engineer. He wired me up with a very small microphone that was completely hidden from view and ran a number of sound checks. All was just fine and he paid me a compliment by telling me I had a nice speaking voice.
After that I met the DJ. She was actually the music engineer for the show, and today she'd be playing mostly "wedding music". She reviewed with me what and when she'd play to keep me abreast of what to expect before, during, and after the ceremony.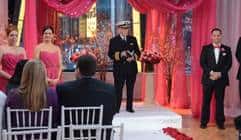 I have to admit, with the exception of the makeup room, all the stuff going on was really no different then what took place when I performed a regular land or major cruise ship wedding. The only difference was that there were a lot of people running around that specialized in their specific field of work. In other words, there were "experts" so that everything they did would be "perfect". I guess that's why it was!
Soon enough, it was show time! Everything was in place. The groom had proposed to his girlfriend for all of America to see. She accepted, naturally, as we all knew she would. She was then dressed in a beautiful gown, ready to make her entrance while escorted by her father.
The director quickly said a few words to me and I took my place on a small platform at the ceremony location. The guests, some of them family members, the rest staff of GMA, took their seats. The wedding music started playing, the lights came on, and the cameras started rolling! We were on the air and America was watching!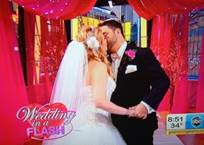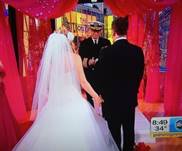 Two minutes seemed like two hours, but every now and then when I glanced down at my little black book, I was tempted to go beyond the prepared two-minute script and do my "real" ceremony. I knew, however, that doing this would really screw up their timing, so I held fast to what I agreed too, still feeling like it was like a two-minute warning you'd see at a football game.
As soon as I said "Bryan, you may kiss your bride for as long as you want" there was a loud applause from everyone in the studio. The couple was introduced to America by one of the hosts of the show as Mr. & Mrs. Bundy, the music played, hugs and kisses were exchanged, and the wedding ceremony was history!
The limousine waited for us downstairs and I was anxious to get home so I could get a few hours' sleep before my next major event in the city.
I'd later be performing a live vow renewal ceremony for hundreds of couples from around the world. I was sure everyone would be there and every computer in the world would be tuned in to see it. After all, it would be Valentine's Day, and who wouldn't want to renew their vows on the Red Steps for free?! But that's a story for another time.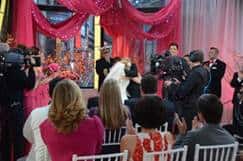 When I got home I went into my elevator, pressed the button to my floor and Fred, a friend of mine who lives in my building, approached me.
"Hey," he said, "didn't I see you on Good Morning America this morning?"
"Nope," I replied, smiling, "I just went out for a newspaper."
Five minutes later my phone rang.
"You son of a gun!" Fred exclaimed. "It was you! My wife taped it and we both just saw it again! Wow…you're famous!"
Later that day I received so many calls from friends and family telling me how much they enjoyed the show. What really impressed me, though, was that I received a call from someone I didn't know – or at least I thought I didn't.
"Hello. This is Captain Arnold," I said. "Can I help you?"
"My name is Zane," the other voice declared.
I thought for a moment and replied, "The only Zane I knew was a guy that I was friendly with in the Navy about 60 years ago."
"Well, that's me," he replied. "Heck, man! I saw you on Good Morning America and said to my wife that it had to be you!"
It turns out that Zane was living someplace in Arizona. My phone still rings to this day as a result of that show.