As a Captain, I have performed many wedding ceremonies on luxurious yachts and large cruise ships like the QM-2. It never ceases to amaze me how beautiful these nautical events are. From the impeccably dressed, white gloved, uniformed serving staff to those delicious delicacies that are served, you can not ask for anything more when it comes to a wedding reception. But when I was asked by The Wedding Experience, representatives of the Norwegian Cruise Line, to perform the 1st inaugural wedding ceremony aboard the Pride of America, I thought to myself, now this is really the icing on the cake. It was indeed an honor and a privilege to be a part of such an event.
George and Emily were the 1st couple to be married aboard the Pride of America, the largest U.S. Flag cruise ship in history, that made its star-spangled debut on June 17, 2005 in New York City. After much media hoopla and a series of inaugural festivities, complete with a christening ceremony that was held on Friday, June 17th in the Big Apple, the Pride of America made her way to her homeport of Honolulu, Hawaii.
The Pride of America's All-American theme extends to the ship's spacious public areas. But on this special day the flavor was all Hawaii and I was asked to include into this beautiful ceremony a little "something" about Hawaiian tradition. After a quick lesson in the Hawaiian language given to me by the Hawaiian ambassador, I was ready to perform my ceremony, but with a little touch of Hawaii in it. Here is an excerpt from my ceremony:
"The lei (a beautiful string of flowers) is the Hawaiian symbol of love and aloha. The custom of giving and receiving leis at weddings began in the days of old Hawaii. During the wedding ceremony the minister bound the hands of the bride and groom as a symbol of the couple's commitment to each other. During the lei exchange, the following words are usually spoken": "E lei kau, e lei ho'oilo i ke aloha," meaning love is worn like a wreath through the summers and winters; love is everlasting."


(The groom then presents his bride with a beautiful white lei that he places around her neck and then the bride places a colorful lei around the groom's neck.)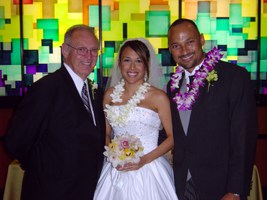 George & Emily
Miami, Florida
June 17, 2005
Married aboard the Norwegian Cruise Ship
"Pride of America"
(Port of New York, NY)
Oh Captain, my Captain,
Absolutely fantastic, amazing, spectacular, incredible, magnificent, touching and beautiful was your ceremony and these words are only but a few that we heard from all those present. Thank you for those beautiful words you spoke in Hawaiian and we shall always remember that very special moment that you made possible on board the beautiful "Pride of America."
Whenever you visit Hawaii, be sure to look us up.
Warm Regards,
Emily & George