WEDDING LOCATION:
Married Aboard the Motor Yacht "Skyline Princess" (World's Fair Marina, Flushing, NY)
Dear Captain Arnold,
We just looked at the calendar and realized it has been 3 weeks since you performed our wedding ceremony aboard The Skyline Princess in Flushing, NY. We are sorry it has taken us so long to write but our schedule has been as hectic after the wedding as it was before.
We wanted to thank you for all of your help prior to our wedding and more importantly we want to thank you for making our special day memorable and magical. My grandmother and John's mother were truly touched to have our deceased relatives mentioned during our ceremony. John keeps asking me if you and I spoke prior to your choosing the vows, that's how fitting your beautiful words were. My guests keep remarking on how wonderful everything turned out.
For me, there was something deeply touching about reciting vows that seemed tailor made for John & me while overlooking the water in our dockside ceremony. We can't thank you enough for making our wedding a dream come true. We were also surprised that you sent us a copy of our vows. It was the perfect compliment to a beautiful ceremony & reception. Thank you again! We hope to take another cruise aboard The Skyline Princess to celebrate our first year wedding anniversary.
With all our Love,
Cynthia & John Heid
07/08/07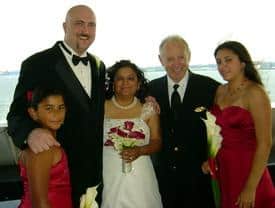 John & Cynthia with her daughters Daniell & Devyn