Kimberly Hankins & KellySalazar
FROM:
LaVergne, Tennessee
WEDDING LOCATION:
Married at the "Ladies Pavilion" (Central Park, New York City, NY)
Good Afternoon Captain Arnold,
Sorry for the time is has taken us to reply with a response.
My wife and I would like you thank you for the beautiful words used in our wedding ceremony. They truly hit home and we will always cherish the advice you gave to us. The children's ceremony was very beautiful and our daughter was excited to be part of the occasion. Thank you again for the beautiful ceremony and the memories you helped us create.
Thanks,
Kim Hankins and Kelly Salazar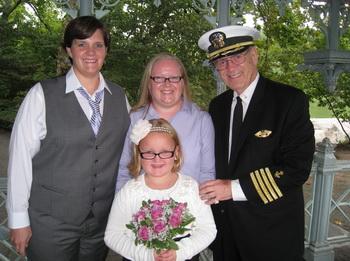 "With their daughter Layla"