CLICK ON ANY TAB TO SEE THE DIFFERENT WEDDING LOCATIONS
WEDDING LOCATION:
Married at the "Green-Wood Cemetery" (Brooklyn, New York)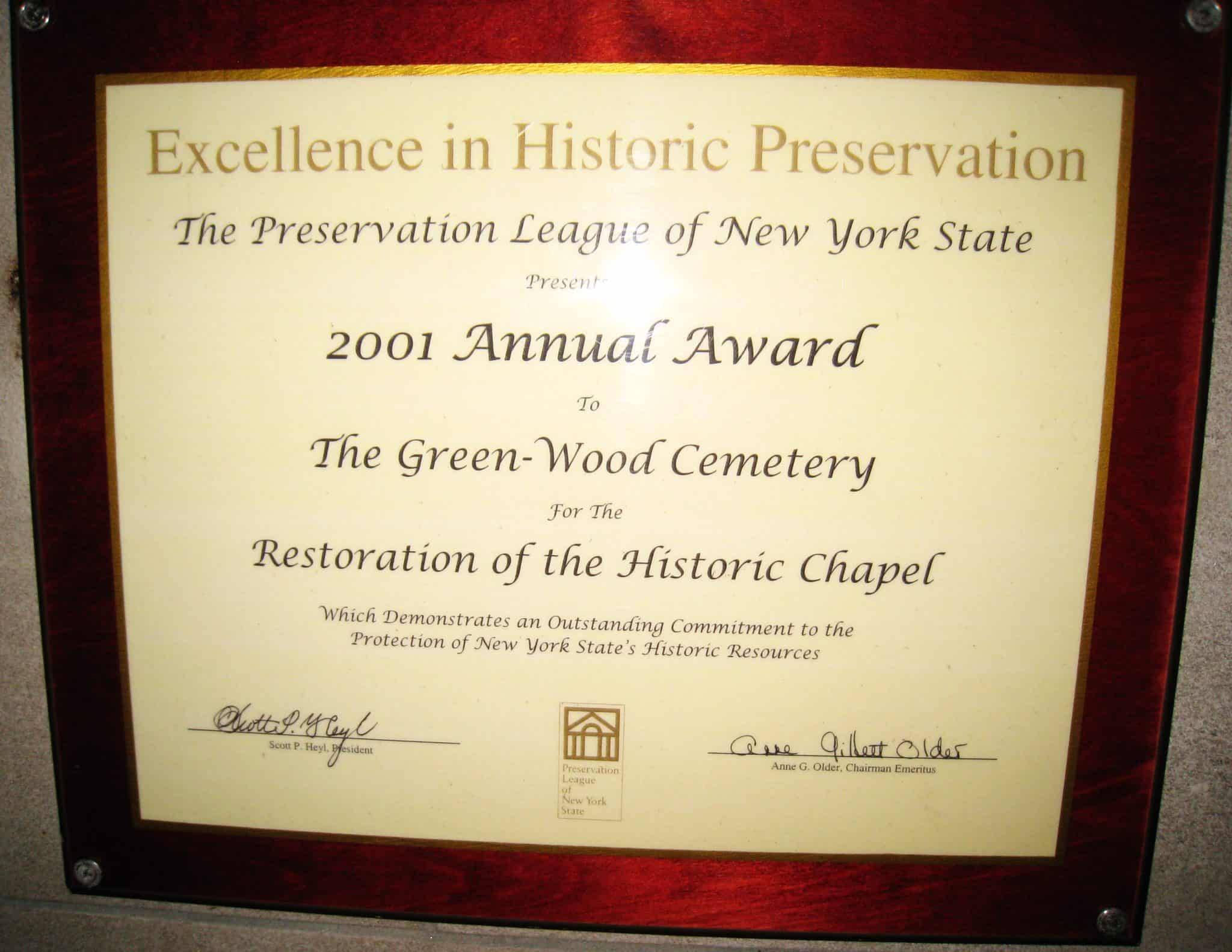 FROM:
Jackson Heights, Queens, NY
WEDDING LOCATION:
Married in Room-416 North at the "North Shore LIJ Hospital at Forest Hills" (Forest Hills, New York)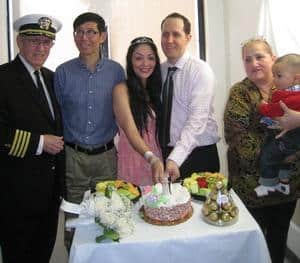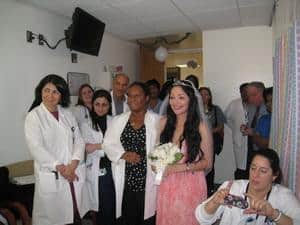 "Cutting the Cake"
WEDDING LOCATION:
On the "N" Train between Kings Highway & Canal Street Station (Between Brooklyn & New York City) "Ring Ceremony performed going over the Manhattan Bridge"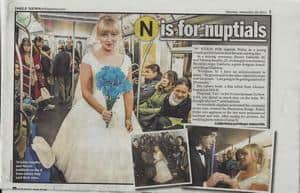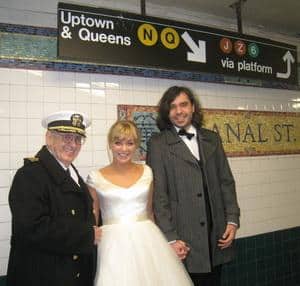 "A Daily News Article"
Captain Arnold,
Thank you so much for posting the video of our wedding – I've only managed to find a few short clips and thought I'd never see the whole thing. If you ever have a moment to send us a copy we could download and save, it would mean the world to us. I don't mean to be a bother, though, espically after all you've done for us on our magical day. Many of those who had been present at the ceremony have since asked for your contact information "just in case", even a few of our single friends! But that comes as no surprise, really. Despite never having met in person and only speaking once of twice prior to the wedding (and only a couple of days' notice at that), you somehow knew exactly what to say. You are truly the spirit of New York City personified. No one but you could have improvised so seamlessly- and with such warmth and eloquence- around an expected train delay. We're amazed by how smoothly everything went… all thanks to you, Captain.
Much Love,
Tanya & Hector
Be sure to look for the story and details about this incredible wedding ceremony in my "Unique & Unusual Weddings" link on my home page…Coming Soon!!!
WEDDING LOCATION:
Married on "Sexton Island" (On Sexton Island, home of her parents) Islip, NY
FROM:
Ann Arbor, Michigan
WEDDING LOCATION:
Married on "Good Morning America" ABC TV Studios (New York City, NY)
WEDDING LOCATION:
Married in a "Limousine Outside Europa Cafe" (205 West 57th Street, NYC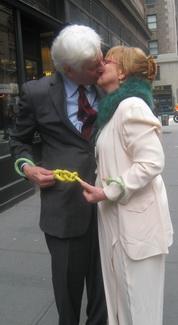 "Notice the Eternal Knot they're holding"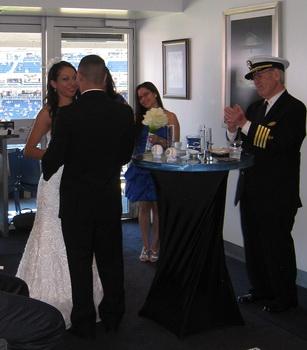 "I now pronounce you husband & wife"
Captain Arnold,
Adam and I wanted to send you our deepest thank you for your glorious and Impressive ceremony presentation. Our wedding would not have been as special as it was had you not been a part of it.
Our vows were truly amazing and you made our ceremony special in every way. Thank you!!
Love,
Nika & Adam
WEDDING LOCATION:
Married at the "Bottom of the Red Steps" (Times Square, NYC)
Dear Captain Arnold,
Scott and I would like to Thank You so very much for our Beautiful wedding ceremony…. It was so much more than what we expected!!! You made it so touching and beautiful with the vows you chose for us and how you let us express our love to each other with our own vows as well…. I have to say you had all of TIMES SQUARE completely captivated with our ceremony!!
Again Thank You So Very Much!!
Scott & Michelle Barfield
WEDDING LOCATION:
On top of the "Empire State Building" (New York City, NY)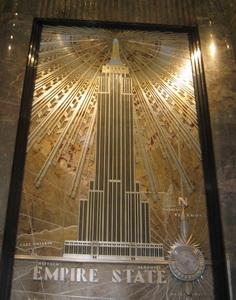 "Lobby in the Empire State Bldg."
Dear Captain,
We would like to thank you so much for the unforgettable wedding we have had thank's to your tenacity. Without your efforts, we were probably unable to have the "highest" wedding of Manhattan!
This day on the 86TH floor of the Empire State Building will stay in our mind as one of the best souvenir in our life.
We have dreamed it, you did it !
Thank you again and hopefully see you soon…
Fanny et Christophe Bonnet
WEDDING LOCATION:
"Married in the Chapel of Greenwood Cemetery" (Brooklyn, NY)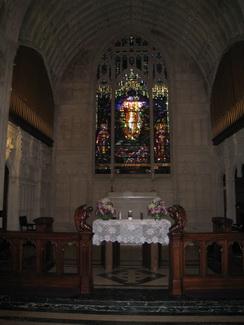 "The Chapel at Greenwood Cemetery"
WEDDING LOCATION:
Married on a "Private Island" Atlantis Marine World (Riverhead, NY)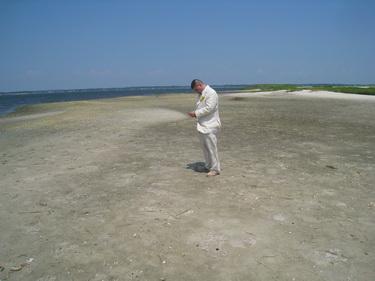 FROM:
New York City, New York
WEDDING LOCATION:
Married at the "Historical Chapel" In the Greenwood Cemetery (Brooklyn, New York)
Dear Captain Arnold,
Thank you so very much for a wonderful and memorable wedding day. Both Carey and I really enjoyed getting to know you, particularly during our dinner in May. Your warmth and gentle spirit gave us such reassurance. We came away from that dinner knowing we made the right choice in asking you to officiate our ceremony. You really took care of our every need, including your call the  night before. We knew you would really be there for us, making sure everything would run smoothly.
Your ceremony was, quite simply, beautiful. Your words were inspiring, and captured so perfectly the reasons why we wanted to be married. Your sage advice about the ups and downs of relationships was also very meaningful. Your perspective – the long view – will really stay with us throughout our lives. Indeed, we both feel so lucky that you were available on June 1st, and we do so appreciate all the time and care you took with our ceremony. We also appreciate your remembering to acknowledge the members of our family that had died. Having their names read aloud really meant a great deal to us as they were truly in our hearts and it was important for others to know. We so appreciate that you thought of that detail.
Mostly, we really thank you for your warm and generous personality. You not only embraced us with your kind heart, but conveyed to our family and friends how marriage is all about love.
Thank you for everything.
Much love,
Melissa & Carey Burtt
WEDDING LOCATION:
Married at the Statue of Liberty (Liberty Island, New York)
Dear Captain Arnold,
Thank you so very much for giving us, our family and our friends a touching ceremony. Not only did you incorporate the symbology of the Statue of Liberty and the meaning of the joining of two lives—you understood us perfectly. All of our guests said they were moved by the ceremony, that you said the perfect words for our relationship and they felt the romance of the day. In fact, a lot of people want to see a copy of our vows in order to remember those beautiful sentiments!
Thank you again,
Jim and Christina Albright