Deluxe Wedding Photography Package
Your Celebration of Love Captured Forever on the Skyline Princess!
On your wedding day you can expect our experienced photographer to take some photos of both of you prior to boarding and to tag along unobtrusively as he gets you settled into your wedding suite.
As a courtesy, and if location and time allows, our photographer will photograph some smiling faces of family and guests prior to boarding. As the wedding couple prepares for the main event, our photographer awaits at the ceremonial location as the final preparations are made. Finally, the moment has come! With all eyes on the wedding aisle entrance, our photographer will take one more glance over at a teary eyed partner as the love of their life comes down the aisle.
The ceremony itself is captured with the finest camera equipment by our creative photographer as needed in order to capture all your special moments. During the reception, you can expect us to capture the couple & wedding party entrance, first dance, guests dancing, photo session; cutting of the cake, toasts and fantastic scenic photos with a backdrop of the magnificent skyline of New York City and the beautiful Statue of Liberty.
Only one thing will be left to finalize your special photos! Your Photographer will take you both to a quiet spot to shoot some intimate and beautiful photos and will then create what will be a masterpiece in your photo collection. In approximately 30-45 days, you now get to re-live your celebration of love, over and over again!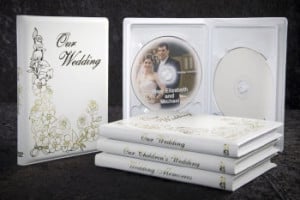 What you'll receive:
Approximately 250-300 photos will be taken. You will receive one professionally edited master DVD with slide show copies of the best of the best photos (approximately 50 Plus), with your favorite music playing in the background, plus another edited DVD with all photos taken for your own use to make copies or a photo album at any photo copy facility (like Costco or your favorite online photo service). The photos taken at your wedding will visually detail every important moment in your event, starting with your embarkation aboard the beautiful "Skyline Princess." The DVDs come delivered with a beautiful custom quality DVD cover case classically titled with "Our Wedding Day" or "Wedding Memories." Our photographer is like a sharp shooter capturing all the photos needed with those "special moments" and giving it to you on your master DVD. These are memories you will cherish for a lifetime!