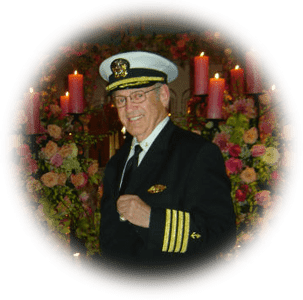 For more than 40 years, Captain Arnold has been an active U.S. Coast Guard Licensed Captain. He is also the only Captain that is an ordained chaplain registered with the City Clerk's Office of the City of New York. Captain Arnold offers beautiful, unique, and memorable weddings ceremonies on land or at sea, aboard the vessel of your choice or at the waterside restaurant, catering hall, or other land reception facility of your choice.
His amazing Ceremony of Love has been seen and heard around the world, and he was chosen to perform his ceremony at the "Wedding of the Year" special event for the prestigious and ever-popular LI Weddings.com. He has performed in front of hundreds of couples on the iconic Red Steps at Times Square, NYC on Valentine's Day for two years in a row, having been requested directly by the Times Square Alliance to perform a mass Vow Renewal Ceremony streamed live around the world. He had also been chosen to perform the first-ever two-minute flash wedding ceremony on ABC's Good Morning America before 6 million viewers.
The New York Times recently wrote "Hollywood gave a big boost to the myth that captains could legally join couples on the open seas. In New York, Captain Arnold, an ordained Chaplain, is making this myth a reality". A personal interview with the Captain now appears on the New York Times digital website and can be seen by typing "A Marriage at Sea? Get Me Rewrite" into your browser.
Voted "Best of Weddings" by couples of The Knot, Wedding Wire, and LI Wedding Brides, Captain Arnold assists couples in personalizing their vows that highlight the sentiments and emotions of their most important day.
While his specialties are non-denominational, interfaith, interracial and LGBT weddings, he also performs many second marriages and anniversary celebrations with re-affirmation of vows. As the exclusive wedding officiant for many of the major cruise ships in the New York area, such as the Norwegian, Princess, Celebrity, Carnival, Disney and Royal Caribbean cruise lines, the Captain has the experience to give you the perfect ceremony that your families and guests will remember for many years to come.
The Captain is available to answer your questions 24/7 and to assist you with every phase of your weddings ceremony. While visiting this website, be sure to read the accolades of praise he has received from couples that have experienced his beautiful ceremony. Your search for the perfect wedding officiant will be over – guaranteed!