For a Ceremony to Remember at Any Venue of Your Choice…Call the Captain!
History was made on June 24, 2011, when the New York State Legislature passed the Marriage Equality Act which was signed into law by Governor Andrew M. Cuomo the same day. Since that historical day, the New York City Clerk began issuing marriage licenses so that same-sex couples could be married.
And now in a landmark decision the US Supreme Court on June 26, 2015 ruled that same-sex couples cannot be denied the rights and privileges of marriage afforded to all other couples. Like so many other moments in history this day shall forever resonate as a moment of great growth for our nation.
No doubt many of you viewing this website will take this opportunity to embark on a new journey together. I would like to invite you to view my website and begin planning that very special day you've so long dreamed of!
Your New York wedding day is a day to show those close to you that you wish to share your love with that one special person for as long as you both shall live. It's a day of commitment, fulfillment, and happiness that everyone is entitled to enjoy.
As a New York wedding Officiant, I understand that there are all types of couples, each with special needs, dreams, and hopes for the future.
In my 40 years of experience as a Captain in addition to being an ordained chaplain with a specialty in non-denominational, interfaith and inter-racial marriages, I have met with couples of all nationalities, religions, cultures, and creeds and have helped to make all sorts of weddings happen.
I have seen for myself that no two weddings are the same, and that what makes them different should be regarded with care and respect. Each event has its own significant meaning for all those involved, and anything is possible with a little time, careful planning, and someone who knows how to accommodate each event and take the couples wishes and concerns into consideration.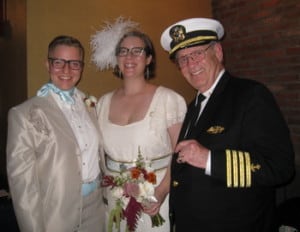 I take pride in all of my happy couples who never thought that their perfect wedding day would be possible, until they asked for my help! I believe that nothing should stand in the way of true love, which is why I am showing my support for the right for everyone to have their own wedding dreams come true.
I have always believed that LGBT couples, as much as any other couple, should have the opportunity to share the joy of love and coming together in a memorable marriage that will last a lifetime. With my acclaimed wedding ceremonies and packages, custom-tailored to every wish and command, LGBT couples now have the chance to plan the weddings they have been longing for and can rest assured that their wishes can become a reality.
For a wedding ceremony to remember – for every couple – all you have to do is call or email me and listen to what I have to say and if you review the accolades of praise that I receive, your search for a wedding officiant will be over… Guaranteed!
Thank You