Deluxe Wedding Video Package
Your Celebration of Love Captured Forever
On your wedding day you can expect an experienced videographer tagging along unobtrusively with you and the wedding coordinators as they get you and your Groom settled and into your stateroom. As a courtesy, and if time allows, our videographers video tape the Bride's dress, shoes, jewelry, gloves and some friendly faces before the big unveiling. As the bride dresses, our videographers kindly leave the Bridal Suite in an effort to capture the Groom and the waiting guests in the ceremonial location as the final preparations are made. Finally the moment has come… With all eyes on the entrance, our videographer takes one more glance over at a teary eyed groom as the love of his life comes down the aisle. The Ceremony itself is captured with one or two cameras (HD optional) as needed in order to capture all your special moments. During the Reception, you can expect us to capture the Bride & bridal party entrance, first dance, guests dancing, photo session; bouquet & garter toss, cutting of the cake, toasts and guest interviews. Only one thing left to finalize your special video: Your "Vid" guy takes you and your partner to a quiet spot to record your heartfelt thought of the day's events. Your professional "Vid" guy is now off to create what will be a masterpiece in your video collection. And in only 30 days (average time)…you now get to re-live your celebration of love, over and over again.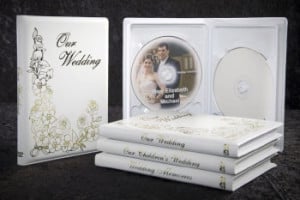 What you'll receive:
Two professionally edited DVD copies, chaptered for quick access to the moments you and your guest would like to relive. An optional photo montage is offered and displayed along with your choice of music throughout the video. If the couple provides 10-15 still photos of their courtship, we will be happy to embed them at the beginning of the video. The DVD comes delivered with a beautiful custom quality DVD cover classically titled with your choice of "Our Wedding Day" or "Wedding Memories." All DVDs are between 45 min. and 1 hour in length, visually detailing every important moment in your event, starting soon after your embarkation aboard the beautiful "Skyline Princess." Our videographers are like sharp shooters capturing all the footage needed with those "special moments" and giving it to you on your master DVD… No need to worry about wasted footage!