Cemetery Wedding
GETTING MARRIED IN A CEMETERY NOW THAT'S WHAT I CALL UNUSUAL!
It was around the end of April 2004, when I received a phone call from Matt. "Are you available to perform a ceremony on June 12th ?" he asked. I checked my schedule and replied that I was. When I asked where he was getting married he replied, "In a cemetery." For a moment I was stunned and needless to say, some weird thoughts went through my mind. I paused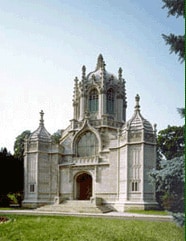 for a moment and said, "Why a cemetery, are your guests dying to come see you? You're going to have a lot of deadheads and stiffs at your reception." I tried to use a little humor. He laughed and then he explained to me that his fiancée, Sybil, was an "historic preservationist" and she worked for the cemetery as an intern. Her job involved making tracings of many of the gravestones that are there from the Civil War, and then writing a report on what it takes to restore them. Hmmm, interesting, I thought, but he never told me where I would be standing while performing the ceremony. June 12th finally arrived and while driving to the cemetery, I couldn't help but think about where I was heading and where I would be standing. Will I be standing on a loved one's gravesite? Or in a mausoleum of some sort? Whew!! The suspense was killing me (no pun intended). I finally arrived at the pearly gates (correction, the wrought iron gates) of the Greenwood Cemetery, a very famous cemetery where many famous people are buried (they even have walking tours). I said to the security officer at the gate, "I'm here to perform a wedding ceremony." He directed me to this magnificent and awesome looking chapel. It's called "The Historical Chapel at the Greenwood Cemetery." For a moment I thought I was in Rome, London or Paris, where such beautiful Gothic structures exist. When I stepped inside the chapel, I felt like I was in St. Patrick's Cathedral, or a chapel that might very well be in the Vatican. Beautiful Tiffany stained glass surrounded me and the architecture was truly extraordinary. I was later told that this chapel was built by the same architects who built Grand Central Station. The chapel didn't have any state of the art electronics, like a microphone or a speaker system. It didn't need it. The acoustics were wonderful, and my voice projects rather well, so I really didn't need a microphone.

The ceremony started and I could hear my voice resonate throughout the chapel. After the ceremony was over, I followed the couple as they walked toward the entrance and it was then that this sweet little old lady, still sitting in a pew on the aisle, grabbed my arm, looked up at me with tears in her eyes and said, "You know, you sounded like God."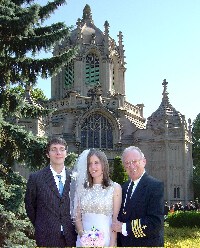 Matthew & Sybil Dojny
Brooklyn, NY
June 12, 2004
Married in the Chapel of
the Greenwood Cemetery (Brooklyn, NY).
"…We just wanted to write and thank you for the wonderful and heartfelt ceremony that you performed on our wedding day. Our vows were truly inspirational and we will remember them for the rest of our lives. We were both so happy that we could have such a unique, warm, funny and thoughtful individual perform our ceremony for us. Thank you so much for making our special day extra special."
HER BOSS FOUND ME
Carey and Melissa were at a party when they heard a woman say that she had attended a beautiful wedding ceremony in a cemetery. Even though they thought it was a little weird, they decided to check it out, since they had not yet selected a location for their wedding. When they arrived at the cemetery and were directed to the chapel, they were quite surprised. They thought it was magnificent and it took but a second for them to say "We love it, we'll take it" to the cemetery management people. June 1st would be their special day and plans were set in motion to find a caterer, a florist, musicians and most of all, the person who would marry them. When they inquired at the management office of the cemetery if they could recommend someone, they were told no. The cemetery management office never had my name on file because the previous weddings that I had performed there were a result of the couples finding and contacting me through my website.

So their search for a wedding officiant began and many interviews with different clergy proved to be unsatisfying, leaving Carey and Melissa frustrated and disappointed. While at work one day, Melissa's boss saw how upset she was as her wedding day approached and she had not yet found an officiant. Her boss told her, "Go back to your desk, relax awhile, grab a cup of coffee and let me do a little checking around." Her boss got on the computer and as luck would have it, found my website. "Look what I found, I think you're going to love this," he said to Melissa. A little browsing around on my website revealed to her that I had performed the only two weddings that had ever been performed in the Greenwood Cemetery. She called me with bated breath, keeping her fingers crossed, hoping that I was available. I was.
Before the wedding, we met in New York City at a lovely restaurant, chatted and discussed the details of their wedding over a delicious meal. The wedding was beautiful and I think her note to me says it all.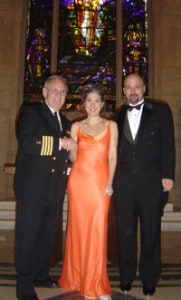 Carey & Melissa Burtt
New York City, New York
June 1, 2005
Married at the "Historical Chapel"
in the Greenwood Cemetery
(Brooklyn, New York)
Dear Captain Arnold,
Thank you so very much for a wonderful and memorable wedding day. Both Carey and I really enjoyed getting to know you, particularly during our dinner in May. Your warmth and gentle spirit gave us such reassurance. We came away from that dinner knowing we made the right choice in asking you to officiate our ceremony. You really took care of our every need, including your call the night before. We knew you would really be there for us, making sure everything would run smoothly.
Your ceremony was, quite simply, beautiful. Your words were inspiring, and captured so perfectly the reasons why we wanted to be married. Your sage advice about the ups and downs of relationships was also very meaningful. Your perspective – the long view – will really stay with us throughout our lives. Indeed, we both feel so lucky that you were available on June 1st, and we do so appreciate all the time and care you took with our ceremony. We also appreciate your remembering to acknowledge the members of our family that had died. Having their names read aloud really meant a great deal to us as they were truly in our hearts and it was important for others to know. We so appreciate that you thought of that detail.
Mostly, we really thank you for your warm and generous personality. You not only embraced us with your kind heart, but conveyed to our family and friends how marriage is all about love.
Thank you for everything.
Much love,
Melissa & Carey Burtt
IT ALMOST HAPPENED ON THE BROOKLYN BRIDGE BUT IT ENDED UP IN THE CEMETERY

Jill and Brian called me in July and asked if I was available to perform their ceremony on August 14th, 2004. I replied that I was and I asked where they were planning to be married. Their reply was on the Brooklyn Bridge. To this I replied that there is tons of traffic on the bridge, where would people park, the trucks make a tremendous amount of noise, what if it rains, was there a Plan B? I asked why they would want to put their guests through the hassle of getting on the bridge in the first place. Jill thought it over and said that I might be right and to give them some time to think it over. Two days passed and Jill called me to say they had changed their plans. They were getting married at a cemetery. I asked her, "The Greenwood Cemetery?" She asked how I knew that, if I was also a psychic? I replied that of course I was not, but that I had just recently performed a ceremony there on June 12th.
Jill remembers playing on the beautiful grounds of the cemetery as a little girl. When she visited the chapel with Brian and took one look at the place, they both knew it was where they wanted to be married.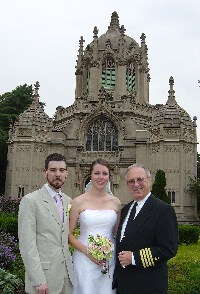 Brian & Jill Carroll
Washington, DC
August 14, 2004
Married in the Chapel of
the Greenwood Cemetery (Brooklyn, NY)
"Thank you so much for performing such a thoughtful and memorable ceremony for our wedding. From the moment Brian and I spoke to you on the phone we knew that you were the one who would understand what we wanted for our marriage ceremony. Because of the distance we did not have a chance to meet you face to face prior to the ceremony, but I had confidence that you would do an excellent job because of your professional attitude, caring heart, and warm personality. Many guests at our wedding commented on the quality of your service and I was not surprised. Your thoughtful commentary on love and marriage during our ceremony made my eyes well up with tears (even though I fought it off!!!)
Thanks again, and best wishes to you."