Helicopter Wedding!
…Up, Up and Away!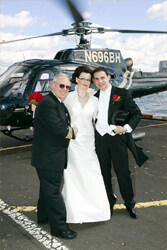 "Would you be our "flying wedding Officiant" and help us realize our dream?" Alex and Brigitte asked me in an email in March, 2005. Hmmm, I thought to myself, this should be interesting. Perhaps before I say yes I should check my insurance and be sure that my parachute is in good working order.
Alex and Brigitte, a lovely Austrian couple living in Vienna were planning to come to America, get married in a helicopter high above New York City, spend a little time in New York and then journey home on the Queen Mary II. Now that's what I call getting married with some special ingredients called thrills and luxury.
I replied to Alex that I would be happy to be their "flying wedding Officiant". On that note, the wheels were set in motion for the wedding to take place on October 14th , 2005. A very significant date indeed for it was also Brigitte's birthday and my birthday as well. A wedding and two birthdays, what a day that's going to be.
Months passed and we kept in touch via email. Alex advising me from time to time on the status of the arrangements he had made with Liberty Helicopter, the largest Helicopter Sightseeing and Charter Service in the Northeast.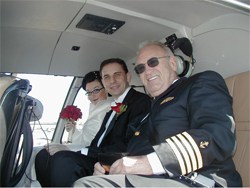 The months flew by quickly and on October 11th , Alex and Brigitte arrived in a very wet and soggy New York. One may recall that it rained for 8 days during that time period and people living in some New Jersey towns were getting around the streets in little boats. Alex called me and we set up a meet the next day at the New Yorker Hotel in New York City. The rain was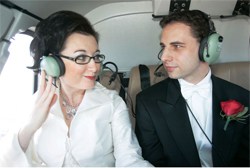 relentless and didn't let up for a moment. We met for the first time over a light lunch, chatted a bit about the wedding and spent a few minutes talking to a reporter from the New York Post who got wind of their story that they were getting married in a helicopter. It must have been newsworthy, after all, how many people get married in a helicopter? I also found out that Alex was an IT Consultant and Brigitte was a Gynecologist. Alex being an IT Consultant was somewhat of a genius when it comes to computers and their networking capabilities which later proved to be a tremendous help to me.
During lunch I briefly mentioned to Alex that I was having a few problems with my computer system and unable to network my laptop and my desktop computer together. In a second, Alex and Brigitte offered to come to my home and fix my problem. Whew! I thought to myself, now this is really a special couple.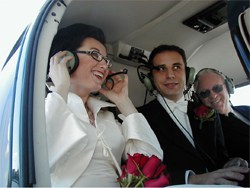 The rain did not let up and the flooding and inconvenience that it caused are too numerous to mention. I remember Alex emailing me one day saying, he had a bad dream, what happens if bad weather prevents the helicopter from flying? Well, seems like his dream came true, at least for that Friday, October 14th . Alex received a call from the helicopter company and was advised that due to the negative forecast, the date had been moved up to Saturday, the 15th.
So Saturday came and it was absolutely beautiful. A warm, sunny, clear day that was perfect for flying. A day with a sky clear enough you could see forever.
I met Alex and Brigitte at the Downtown Heliport at about noon. The people in the Heliport were smiling, wishing them luck, some even applauding as they realized that Alex and Brigitte were a bride and groom and going up in a helicopter to be married. We were given some last minute instructions pertaining to safety and looked at a quick video before boarding. Next thing we knew we were in the helicopter, met the Pilot "Adam", and were given some headsets with microphones so we could communicate with each other. Benedict, our photographer who flew in from Vienna the day before sat in the front seat next to the pilot and I sat in the back with Alex and Brigitte. In a few moments the roar of the engines told us we were on our way. The street, the buildings, the people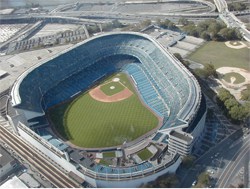 and cars got smaller. The voice coming out of the headset was the pilot talking to air traffic control. When our altitude was about 1500 feet or so, I began my ceremony and the cockpit quickly filled with an atmosphere of love and happiness that only a bride and groom can radiate. It took about 17 minutes and during that time I could also hear voices thru my headset which led me to believe that other people listening in on that channel probably heard my ceremony as well.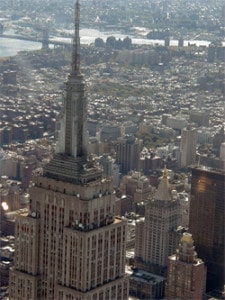 The flight was amazing and lasted about 45 minutes over New York City and beyond. We took a few turns here and there so that we can see the Statue of Liberty, the Verrazano Bridge, and Yankee Stadium. We could almost reach out and shake hands with people on top of the Empire State Building. For Alex and Brigitte, it really was their special day.
That following Tuesday, Alex and Brigitte visited my home. Alex fixed my computer problems, they met my wife and we all went to a lovely Italian restaurant for a great dinner. Thursday, they boarded the Queen Mary II for their honeymoon journey back home. They stopped in London for a day and then back to Vienna. On Oct 29th they had a very large reception in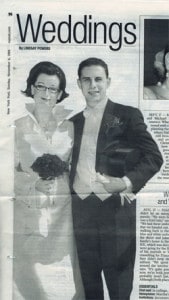 Vienna and shared their New York experience with their friends and loved ones. When Alex and Brigitte were asked, why they wanted to get married in a helicopter, they replied, "We just wanted to get away from the crowd."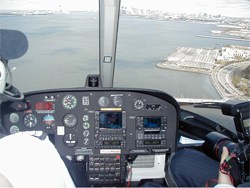 Alex, Brigitte, my friends across the sea, on a personal note I thank you for letting me come into your lives and play such an important role on your wedding day. It was truly a unique and unusual wedding ceremony that I will remember for many years to come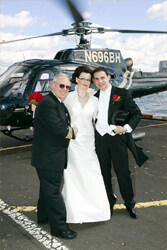 Alexander & Brigitte Welzl
Vienna, Austria
October 15, 2005
Married in a Helicopter
(Somewhere very high above
New York City)
Dear Captain Arnold,
This is to express our gratitude for your warm and precious words during the marriage ceremony high in the sky above NYC. It was a very special day for us, and we cannot say in words how much we thank you that you made it possible for us…
When we arrived in NYC, it was raining cats and dogs and there were serious floodings. It didn´t look like the wedding could take place at all, which put us in a rather bad mood. But, at last, the weather cleared up and on our big day, it was just wonderful. Everybody at the heli-port was so nice, and it all went so smoothly. The ceremony was unforgettable, just like the flight itself.
We also say thank-you for arranging to meet Ms Lopez, who helped us get the Apostille, so that the marriage certificate is accepted worldwide. You did not hesitate to ring her and ask her for help.
The afternoon we spent in your house was really nice and relaxing. You welcomed us like we had known each other for years, and so did your lovely wife. The dinner at the Italian restaurant topped the day off.
Thank you so much for everything!!!
Keep in touch,
Love, Brigitte and Alex