A Surprise Wedding with Jail House Blues!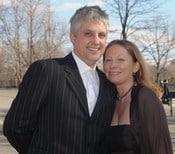 The very first time I heard from Tim was by email on November 29th, 2007. He explained to me that he wanted to surprise his girlfriend by proposing to her on top of the Empire State building. He also wanted to marry her while they were here and Tim wanted the wedding to be a surprise. He was planning to bring Penny to New York on the pretense of celebrating her 40th birthday. This was to be TOP SECRET stuff and Tim wanted me to communicate with him only at his office or through a special phone number. What you should also know is that Tim and Penny live in England and what unfolded from this story is truly amazing and without question deserves a place in my "unique & unusual" weddings. This is a story that as of this writing has still not come to an end. Read now what this amazing young man orchestrated to pleasantly surprise the love of his life.
Tim and his bride-to-be Penny have had a long and beautiful relationship. To quote his Best Man "we thought lobsters had a long courtship". Tim and Penny have been dating steady for 17 years.
Throughout the summer of 2007, Tim was constantly thinking what he could get Penny for her forthcoming 40th birthday on Jan 20th 2008. Something that would show her how much she means to him, how much he loves her and the perfect present for the perfect soul mate. He liked the idea of a surprise wedding in NYC and "MARRIAGE" wasn't a word that had crossed their lips too much in the past 17 years, an incredible plan was hatched. So incredible in fact, that we are still waiting for "closure" to this wonderful story.
In November, Tim started to ask people who may be interested in joining them in New York for the surprise wedding that he plans to pull off without Penny knowing about it. Now bear in mind that Tim and Penny live in England and so do all of their families and friends. Tim checked Penny's cell phone, and stole some mobile numbers of her close friends. He initially thought that if he could raise around 20 people, it would be quite a show. Two weeks later Tim had 42 people on board! Families and friends that were so happy to partake in this fantastic surprise that Tim had orchestrated for Penny. Across the oceans they came. The wheels began to turn and everything was set in motion.
Tim's friend Alison was holidaying in New York, so she found and booked a hotel for Tim and Penny on 34th Street. Tim booked the flights and painstakingly browsed the internet for a Wedding Officiant. He came upon my website and the accolades of praise from beautiful notes and letters from couples I had married that Tim had read convinced him that I was THE MAN he wanted to perform his wedding ceremony. When Tim first contacted me he said, "I shall be looking for an outdoor wedding, at some kind of famous New York landmark, as it's been a city close to both of our hearts. We have been admiring Belvedere Castle in Central Park, and wondered if this is a possible venue?"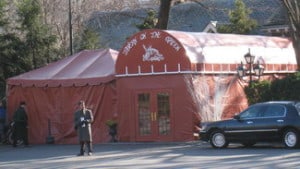 I told him it was and so are several other beautiful locations in the Park, but he'd better have a plan B in effect because having a wedding in Tavern on the Green.jpg Central Park at that time of the year could be a problem if the weather wasn't in our favor. So on that note, he was struggling to find a venue for the wedding and was tipped off about The Tavern on the Green in Central Park. Too numerous emails later he recalls, he had the Rafters Room booked, flowers ordered and the menu arranged. Another major step he accomplished in this beautiful plan.
At 12 midnight on New Year's Eve, Tim told Penny he was taking her to New York for her 40th birthday. She was over the moon as he puts it. He never once mentioned anything about marriage or the wedding plans that he set in motion. She was coming to New York to just celebrate her birthday. What a wonderful birthday present, she thought.
Tim and Penny landed in New York, at mid-day on the January 15th. He called me, just to stay in touch and let me know that they are in New York. That evening, he took her to the observatory deck on top of the Empire State Building and popped the age old question. Will you marry me? She couldn't believe what she was hearing. Three times she asked Tim, "What are you saying that for?", "Because I want to marry you!" he replied.
Later that evening, Tim told Penny that if he could get everything arranged in time, he may have a venue that would fit them in on the Sunday of January 20th, her birthday. Just a small little wedding and a pair of strangers for their witnesses would suit Penny just fine.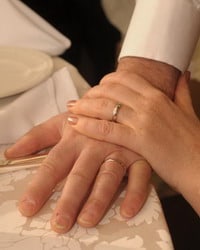 Wednesday January 16th. Tim and Penny took a train to City Hall and queued up with all the other people. They left an hour later with their Wedding License in hand. While at the hotel Tim had been secretly browsing the internet on his computer for wedding rings and had seen a lovely one on the Tiffany & Co website. As the Wall Street store is a stone's throw away from City Hall, they wandered down for a look. Tim found the ring he had seen for Penny, and Penny adored it. She chose a plain band for Tim which he also loved.
Thursday January 17th. Off they went in search for wedding outfits – eight hours and aching legs later, they had chosen their attire.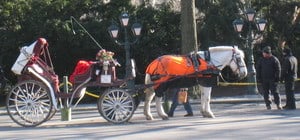 Friday January 18th. All 42 people, family and friends had landed in the USA by 12 noon. This was the tricky part for Tim – trying to keep in touch with everyone but staying out of their way. Penny and Tim were only staying two blocks away from the guests' hotel so they spent the day up by Central Park keeping as far away as possible from everyone that came to celebrate this great occasion.
Tim managed to sneak off for half an hour and popped into The Tavern on the Green to finalize some things and he finally got to meet the event's organizer there, he dropped off the place cards and seating arrangements. Another important phase completed with success.
They got back to their hotel around 4pm. He now dropped the bombshell to Penny that he couldn't get the venue he wanted for their wedding and no matter how hard he tried, he just couldn't find the right place that he felt would be perfect for their wedding day. On that note he told Penny that they would have to return to New York in a month but this time with some friends to share in their wedding day. Tim could see the disappointment in her face. He told me later it was cruel but fun!
At 7.30pm they headed off to Houston's Bar on Park Avenue for what Penny thought was to be a few drinks 'out and about'. By this time everyone on the trip was waiting across the street on what was an extremely cold night.
Tim and Penny went into the bar and found the perfect spot, on a raised section, right in front of the revolving doors and big windows. Given the freezing weather outside Tim quickly sent out a text message to let all the people know that Penny's back was to the door and window. NOW, he texted! Over her shoulder Tim could see everyone streaming across the street, it was amazing he said something out of a movie. Tim then said to Penny "I think we should get married on Sunday", "Oh OK where?" came her reply, "I don't know, err, let's ask some of these people standing behind you" he said. They're New Yorkers, they know just about everything.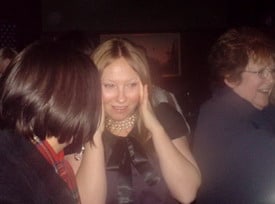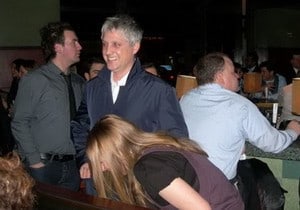 Tim spun her around to come face-to-face with her family, his family and all of their friends. Penny thought she was dreaming, tried to hide behind Tim and said she felt as though she was going to be sick with shock. Again, it was cruel Tim told me, but fun. It was fantastic, a truly memorable moment and Penny later said she loved it. It was then that Tim confessed everything to Penny, how he hatched this plan of his and it brought tears to her eyes.
A short while later, after the surprise and everything had calmed down a little, all the men left for the bachelor party and the ladies for the bachelorette party. Tim had organized for the men to go to the Lower East Side then onto Webster Hall.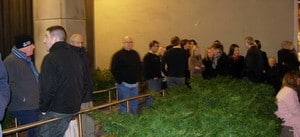 All went well until they entered Webster Hall. They paid for a reserved table in the VIP area with a complimentary bottle of vodka. Now Tim was never going to be a member of the Rat Pack Drinking Association as he calls them – some people have hollow legs when it comes to consuming alcohol but I could see that Tim was not one of them. In a slightly inebriated state, mind you I said slightly, Tim managed to pick up the wrong bottle of vodka and poured himself a drink. He was immediately accosted by its real owners and was told he owed them $225!! When he refused to pay that, the manager was called who also stated he should pay $225. He said it was an honest mistake, apologized and offered to replenish the drink from his own bottle. But his apology was not accepted and they continued to harass Tim.
He replied that he, the manager should leave him alone and retreat forthwith (or words to that effect). In a split second, Tim had grown a 6ft+ bouncer on each arm. Being the consummate gentlemen they were, they kindly escorted Tim to the exit.
In hindsight Tim told me, at that moment he was beginning to think that the club is predominately attended by amateur wrestlers and football players, as Tim is only 5' 9" and weighs only 168 pounds, he couldn't quite cope with the twisting of his hand and the breaking of his scaphoid bone. He struggled to break free and a third bouncer (an amateur boxer?) thought he would try out his right jab, twice, on the back of Tim's head, once in the ribs (possibly a left/right combo?). It looked like this was going to be an HBO fight night and you didn't need a ticket.
Someone unbeknown to Tim then gave this brute a crack to the nose, and broke it. Mr. Left Arm Bouncer & his accomplice, Mr. Right Arm Bouncer then thought it would be fun to lay Tim on the curb outside and try some surfboard practice, with Tim as the surfboard. Fair play to them, Rockaway Beach has only recently been opened, and who is Tim to stand in the way of the next Kelly Slater? I later learned that Kelly Slater is a successful professional surfer. Slater is an eight time world champion Just goes to show you how much I know about surfing. I'd rather be running a ship than a surfboard.

Now thinking back as Tim puts it, his head was a little fuzzy, and thinks he told them that this was his 4th trip to New York and he had seen all the sights, so they kindly offered him a trip to New York's finest and would you believe the next 24 hours he spent in Jail. This all inclusive trip lasted 24 hours for Tim, came with a free lunch (2 rounds of white bread – no butter, cheese slice, small carton of milk), a free photo, taken from the front and also from the side, a copy of his own fingerprints (should he sometime in the future, forget who he is), an evening meal (2 rounds of white bread – no butter, cheese slice, small carton of milk) and last but not least, a room with a view (unfortunately shared with some shady looking characters).

As Tim describes it to me, how could he forget the fun he had with the NYPD. They were sharing humorous jokes with him and his new found jail house buddies, the best being the one about the Judge not working on a Sunday, coupled with Martin Luther King Jr. holiday on the Monday, he wouldn't be released till Tuesday. Tim nearly wet himself with laughter (which was a good thing as the toilet had no seat he told me, sick all over it, and 17 attentive fellow inmates). Oh how they laughed and cried at the same time.
Now Tim had heard of Zero Tolerance, and coming from a country with a spiraling crime rate, certainly agreed with it. Nothing could have prepared Tim for the Public Enemy No 1's he was about to meet. One chap had committed the heinous crime of drinking a can of beer on the street. Another had been $6 short on his taxi fare and despite having left his wallet with the driver had been arrested when returning with the shortfall. Maybe Tim should take these jail tales as a pinch of salt, but the crimes were generally of the same level.
On a serious note now, Tim was charged with the misdemeanor of Assault in the 3rd, degree and must return to NYC to face the Judge on March 27th.
Saturday January 19th. Tim was M.I.A. (missing in action for those that don't know what that means) until 11.30pm when he was finally released. I'm sure you could imagine how Penny and family were distraught with worry all day and night.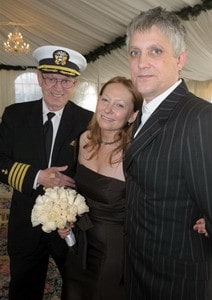 Sunday, January 20th, Penny's 40th birthday and their wedding day. Penny later said that the subject of her birthday was the last thing on her mind. We were both just thankful that Tim and I were going to make it down the aisle, she said. The sky was blue and although it was reportedly -4 degrees, the weather was perfect. After a much needed night's sleep, Tim and Penny got themselves ready at their hotel and took a yellow cab to Central Park for midday. They were met by me not yet realizing what had happened other than this wedding being a surprise, eased their nerves immediately and ran through a few procedures. The rest went swimmingly well to use an English term considering they had no rehearsals as one would expect, under a normal pre-wedding plan. There were quite a few tears shed, mainly by the bride herself who was somewhat overwhelmed by the whole ceremony. Fortunately there was a well-stocked bar waiting to supply everyone with champers (another English term I learned ( Noun: champers Usage: Brit (=champagne). A white sparkling wine either produced in Champagne or resembling that produced there – champagne, bubbly …) The guests enjoyed a beautifully prepared meal in a fantastic setting overlooking the park and then later carried on the celebrations into the night around some bars in the city – no drama this time.

The day of the wedding and after the ceremony, I asked Tim how everything went with the surprise he had planned for Penny. It was then that he took me aside and told me this incredible story and the sequence of events that led up to his arrest. He said to me, you don't know the half it. I spent almost the last 24 hours in jail and didn't get out until 11:30 last night. Well, on that note, there is still more to come when Tim comes back to face the judge and have the hearing that's scheduled for March 27th, 2008.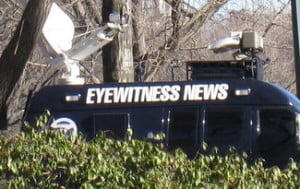 Unfortunately, this story has no end yet, but stay tuned and let's keep our fingers crossed that all goes well for Tim and Penny when they return to meet the Judge. I'll keep you posted with a news flash on the home page of my website! Meanwhile, here are a few more photos of what was truly an amazing event.
Finally….This story has somewhat of a happy conclusion. Tim contacted me and gave me the ending to what could have turned out to be disastrous, but as luck would have it, with some help from a wonderful "Public Defender" and a not so grumpy Judge, all ended well and Tim and Penny can now return to New York to celebrate their first anniversary and to perhaps even renew their vows. So read on….and enjoy Tim's letter to me and about the events that followed his arrest.
Dear Captain Arnold
Thanks for contacting us again. Well the story did end quite well if you can call it that, but the two months at home while we waited to return for the court hearing was rather miserable to say the least, considering it was supposed to be the happiest time of our lives! Penny and I were so anxious about the prospect of me returning to the US and being banged up, left us with a rather dark cloud hanging over us both. I had contacted various US lawyers who quoted extortionate costs for representing me that would've wiped us out. Nevertheless I was still convinced that returning to face the music was the best option, because as I've said before, we love New York so much, I didn't want to run the risk of never being able to return. Anyway the day before we left, I found a small bit of info via the internet about my hearing schedule and that I'd been assigned a Public Defender by the name of Christine Delancy. This was the young lady who had interviewed me when I was originally arrested so I telephoned her to say we were flying over the next day, the day before the hearing on March 27. We had a brief chat and she told me to ring her when we arrived. I can't tell you how relieved I was to know that I had someone legal representing me on the other side. The journey went according to plan and I rang Christine as soon as we touched down in the US.
To my surprise she told me that she had already liaised with the Judge and had possibly arranged a pre-hearing deal. I was still to attend court as instructed but the Judge had agreed to reduce the charge of Assault to a charge of Disorderly Conduct and my sentence was to be…. wait for it…. two days community service! I nearly collapsed. This, I had not anticipated. She said that it wasn't definite and it could quite easily change, depending on what side of the bed the Judge got out of but I didn't care, I was over-the-moon! I knew we were being a tad premature but Penny was so excited we immediately dropped our bags at the hotel and went for some celebratory beer. The following day was a bizarre experience. I have never been in this sort of situation before in the UK, never mind in a foreign country and isn't something that I wish to experience again. The court situation is quite different to that over here. Here, you appear solely in the court room with the Judge or Magistrates. We were amazed to see about 50 or so defendants all in the same room being called up to the front one by one where you answered to your charges. Some guys were escorted in and out in handcuffs and it was all very solemn. It seemed like an eternity but I was eventually summoned to the front where Christine joined me.
To be honest it was all over very quickly I can't remember what was said exactly, but I do remember the Judge sort of smirking as he spoke to me almost as if to say "why the hell have you returned?". True enough I was asked if I was prepared to repay the community with two days work which I could complete over the following days before our flight home on the Sunday. I agreed and left the Courthouse relieved… to say the least. I got my instructions before I left and then I had to go on a rather an unusual shopping spree… to buy some work clothes! As I'd no idea this was going to be the outcome, I'd only taken my suit (for the hearing) and some decent stuff, as you do when you're going on a trip. So I bought some gear, work boots, gloves, coat, a hat (it was still cold) and prepared myself for two days hard graft. I toddled off at 7am the following morning to meet my new workmates in Tompkins Park, E10th Street. Pen waved me off then went back to bed. She had a serious day of shopping ahead of her. I met the rest of the criminals and we were duly given the tasks for the day, picking up cigarette ends and litter mainly.
I mated up with a guy called Stu who was from the Bronx, we swapped our criminal stories and he enlightened me about life in New York City. It wouldn't be ethical to mention what he'd done or some of the others in case their loved ones or employers happen across this story. Anyway, the top and bottom of it is this, I've always wanted to work in New York, now I have. Even though it's missing the point, I completely enjoyed the two days, oh by the way I spent the second day in the park picking up dog-pooh. Nice. It was another one of life's experiences, but I do wish our wedding day hadn't been marred in the way it had. I didn't feel that I was completely there in spirit, so maybe one day we'll renew our vows there but without getting arrested. It makes for a good story anyway. I hope this fills your gap for the end and next time we're in Manhattan we shall get in touch and maybe we can meet up for a beer.
Thanks for ALL you did Captain Arnold. Take care.
Tim & Penny Youens